Well, it seems that with
my earlier post
I either touched on a topic that everyone has strong feelings about, or what I wrote made everyone think, "I've got to set this guy straight." Hey, that's what the internet is for, right?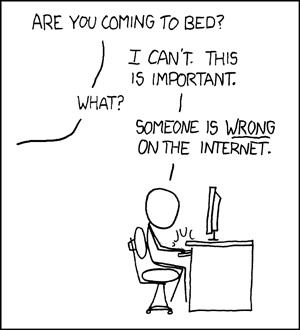 Good comments, all. Going back over my little essay, I'm thinking there are a few points I want to clarify. Also, there was another little interesting exchange in one of our classes at church on Sunday that both illustrates what I was talking about, and provides fodder for more thought.
...
So, as is usual in cases like this, I'd like to go back to first principles. One of the things that the apostles wrote a
lot
about was the need for unity in the Church. And--as is necessary to secure that unity--Paul warned us to avoid disputes on questionable matters. Where differences of opinion exist, we are to avoid giving offense wherever possible, and--so long as it's not on a matter that could threaten someone's salvation--to let things
slide
. Examples of this from scripture include Romans 14:1 through 15:6, 1 Corinthians 3 and 6:1-8, pretty much the whole book of 1 John; and there are a bunch of other places besides.
This is absolutely crucial, because the Church is designed to hold people who are
radically different
from each other, who wouldn't normally associate with each other if it weren't for their religious fellowship. Consider that Jesus himself had, in his own hand-picked group of apostles, one guy known as Simon the Zealot. Now, the
Zealots
were religious Jewish radicals who were actively working toward rebellion against Roman rule, including through violent means. But Jesus also had as one of his apostles Matthew, the tax collector. The Romans would recruit tax collectors from among their subjugated peoples, including the Jews. Tax collectors would collect money from their countrymen, making their pay by collecting taxes above and beyond the share Rome demanded and pocketing the difference. These guys were, often with justification, widely regarded as parasites and traitors by their countrymen. Zealots hated them.
So you've got Simon the Zealot, and Matthew the tax collector, rubbing elbows within Jesus' inner circle. The Bible doesn't mention any political conversations around the apostles' dinner table, but boy, I bet it got interesting....
But this is
precisely
the point about unity! The church must be big enough to handle people who, outside of the church, would be
diametrically opposed
to each other. Christ died for the Army colonel, and the banker in pinstripes, and the university professor, and the hippie chick; and His church must be able to accommodate
all
of them,
at the same time!
And the only way to make the tent
that big
, is to eliminate any restrictions, any commandments, any expectations beyond what the Lord asks of us. If a church starts to advocate any position beyond the mission that Christ gave it, it will eventually--inevitably--become something that needlessly drives people away. People have a hard enough time just living righteous lives according to what the
scriptures
define as righteous; when we start expecting more from people than this, it will only serve to drive out someone or another lurking near the edges--precisely the kinds of people we're supposed to be hanging onto the hardest.
This is the main reason that I feel my shields start going up whenever I start to hear politics or economics from the pulpit. Fact is, elections are divisive things. There are a lot of people who were
absolutely overjoyed
about the latest presidential election, and there are a lot of people who think it's an
absolute disaster
for our nation. And these people have to share a church. That is, they have to share a church if they hope to obey the will of God.
...
So, all that being said, here's why I dislike the term "Social Justice".
Within the Christian worldview as I understand it, Jesus expects me to take care of the sick, and the orphaned, and the widow, and the impoverished, and the imprisoned. And I see no evidence in scripture that Jesus is willing to let me off the hook by supporting any political program to take care of "the poor" for me. This isn't a task that I can delegate away;
I
am responsible for the people around me, and will be held accountable. It's a big task, and one that I don't particularly feel up to. Nevertheless, this is all a big part of the Christian mission.
Now, within the Marxist worldview, which has strongly influenced a big chunk of the pop political culture, all these problems that Jesus talked about--poverty, imprisonment, disease--are merely
symptoms
of underlying socioeconomic factors which are themselves driven by our fundamentally unjust economic and political systems. To the Marxist, the way to solve these problems is a wholesale reordering of our society; the elimination of private property in favor of collective ownership of the means of production; centralized government management of the economy, for the benefit of the people; elimination of gender roles; and the like. The Marxist tends to disdain charities, because they make the current unjust situation
tolerable
; it keeps the poor content enough to prevent them from rising up to overthrow the system, and it soothes the consciences of the wealthy and lets them think they're good people, when they're really the source of the problem in the first place.
Is there common ground between these two worldviews? Well, yes--a little. They both recognize the fact that there are needy people in the world, and they both demand that we do something about it. And when the Marxist claims that Jesus was in fact an early socialist, he points to these similarities, and says, "See! Jesus was for Social Justice. You Christians, if you
really
understood what Jesus was about, would be throwing your lot in with us."
The difference is that the action Jesus advocated was
in no way
a political program. Jesus explicitly said, "My kingdom is not of this world"; he didn't make any attempt to drive out the Romans, or to seize power; he never attempted to validate any
other
political group. His teachings were all about holy living, and our personal responsibility to one another.
I mentioned George Orwell's famous 1946
essay
on politics and language in my post Sunday, and what Orwell was saying about
catch-phrases
and
jargon
applies very well here, too. The phrase "Social Justice" is
exactly
the kind of thing that Orwell was talking about. Fact is, no one knows quite what it means. Or, rather, it means different things to different people, depending on their political indoctrination. To some people, it includes Affirmative Action; to some people, it includes race reparations; to some people, it includes the abolition of private property; to some people, it means appointing judges of a certain activist bent.
You
might hear this term and think primarily of concern over poverty or lack of health care, and you might say, "Yes, I support Social Justice"; but the person listening to you may well hear something you absolutely did not intend to say.
Did Jesus support "Social Justice"? That depends
entirely
on what you mean by "Social Justice".
The trouble is that once people accept the term "Social Justice", this language itself tends to push us toward the political program of the Leftist. Once we have accepted that Jesus was all about Social Justice, then the Leftist starts saying things like, "Jesus told people to give money to the poor. Therefore, if you oppose wealth redistribution in our country, you're being un-Christlike," and "Jesus told us to take care of the sick. Therefore, if you oppose Socialized medicine, you're being un-Christlike," and "Jesus told us to take care of the orphans and the widows, so to be Christlike you must support these Welfare programs...." The sleight-of-hand here is of course that Jesus' commandment for us to take
personal
responsibility for the care of others, is being subverted to a
political
program. The very fact that we're using the term "Social Justice" to refer to
both
these things tends to obscure the difference between them in our minds.
As I suggested in Sunday's post, I think this has happened in many Protestant churches, and in many Catholic dioceses, to the point where the political mission has come to dominate all others. They've lost sight of their spiritual mission because they're so busy pursuing the political one.
And, as I said at the beginning of this essay, this is bad for Christian unity--not to mention, it's bad for the long-term health of the congregation. After all, there are people all across the political spectrum, with all kinds of views on economics; and Jesus died for
all
of them. When you have a church that has bought into the political "Social Justice" view of Jesus' teachings as I described above, it isn't going to be
big
enough to accomodate those whose political leanings lead them to reject the political advocacy. It will drive such people away--even when such people would be entirely receptive to Jesus
actual
teachings on personal responsibility for others.
...
Man, I had no idea this column would go this direction. I still haven't gotten to that little exchange from Sunday. Well, on the bright side, I still have fodder for another column. :)